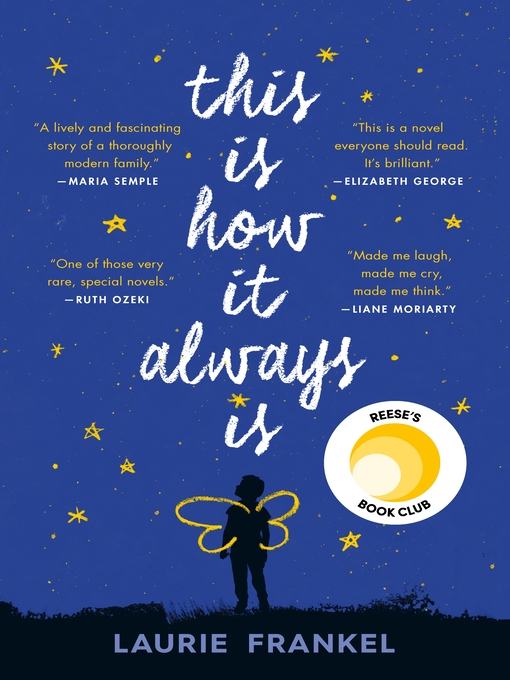 This Is How It Always Is
eBook - 2017

"It made me laugh, it made me cry, it made me think." ?Liane Moriarty, #1 New York Times bestselling author of Big Little Lies This is how a family keeps a secret...and how that secret ends up keeping them. This is how a family lives happily ever after...until happily ever after becomes complicated. This is how children change...and then change the world. This is Claude. He's five years old, the youngest of five brothers, and loves peanut butter sandwiches. He also loves wearing a dress, and dreams of being a princess. When he grows up, Claude says, he wants to be a girl. Rosie and Penn want Claude to be whoever Claude wants to be. They're just not sure they're ready to share that with the world. Soon the entire family is keeping Claude's secret. Until one day it explodes. Laurie Frankel's This Is How It Always Is is a novel about revelations, transformations, fairy tales, and family. And it's about the ways this is how it always is: Change is always hard and miraculous and hard again, parenting is always a leap into the unknown with crossed fingers and full hearts, children grow but not always according to plan. And families with secrets don't get to keep them forever.
Searching for more content…
Publisher:
[S.I.] : Flatiron Books, 2017.
Branch Call Number:
eBOOK OVERDRI
---
Opinion
Featured Blogs and Events
  Whidbey Reads is an annual program that brings Whidbey Island residents together to read and talk about a common book. A series of public events focuses on themes related to the story and the shared experience serves as a springboard to explore commonalities and differences. For 2020, the Whidbey Reads Committee picked Frankel's 2017 novel, "This Is How It Always Is." It was a Pacific Northwest… (more)
From Library Staff
List - Washington State Authors
SnoIsleLib_KristiS
Oct 21, 2020
In this compelling, thought-provoking novel a family reshapes their ideas about family, love, and loyalty amidst conflict over their youngest child's identity.
List - Once upon a Crime: Kevin O'Brien
SnoIsleLib_LindseyA
Sep 25, 2017
In an interview with Sno-Isle Libraries staff, crime writer Kevin O'Brien said, "It's about a couple with six sons, the youngest of whom wants to be a girl. Laurie is a dear friend and one of the Seattle 7 Writers. It's so fun to know the author of a book you love!"
---
From the critics
---
Community Activity
Quotes
Add a Quote
From the author's note:
"I wish for my child, for all our children, a world where they can be who they are and become their most loved, blessed, appreciated selves. I've rewritten that sentence a dozen times, and it never gets less cheesy, I suppose because that's the answer to my question. That's what's true. For my child, for all our children, I want more options, more paths through the woods, wider ranges of normal, and unconditional love. Who doesn't want that? I know this book will be controversial, but honestly? I keep forgetting why.
Penn agree. "Not ever. Not once. You never know. You only guess. This is how it always is. You have to make these huge decisions on behalf of your kid, this tiny human whose fate and future is entirely in your hands, who trusts you to know what's good and right and then to be able to make that happen. You never have enough information. You don't get to see the future. And if you screw up, if with your incomplete, contradictory information you make the wrong call, well, nothing less than your child's entire future and happiness is at stake. It's impossible. It's heartbreaking. It's maddening. But there's no alternative."
"Easy is nice, but it's not as good as getting to be who you are or stand up for what you believe in," said Penn. "Easy is nice, but I wonder how often it leads to fulfilling work or partnership or being." "easy probably rules out having children," Rosie admitted. "Having children, helping people, making art, inventing anything, leading the way, tackling the world's problems, overcoming your own. I don't know. Not much of what I value in our lives is easy. But there's not much of it I'd trade for easy either, I don't think." "But it's terrifying," she whispered. "If it were the right thing to do, wouldn't we know it?" "When was the last time something was bothering one of the kids or he was acting strange or he wasn't sleeping or doing well in math or sharing nicely during free-choice time, and we knew why?" "Knew why?" Rosie said. "Knew why. Absolutely knew what was wrong and what should be done to fix it and how to make that happen." "As a parent?" "As a parent." "Never?" "Never,"
Notices
Add Notices
There are no notices for this title yet.
Explore Further
Recommendations
Subject Headings

Loading...